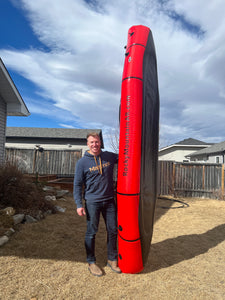 Rocky Mountain Adventure Racing Founder: Chris Fen-Mac
Hi Chris! We are so excited to interview you today! Can you please tell us a little bit about yourself and your interest in adventure racing?
My name is Chris Fenlon-MacDonald, but in most circles, I'm known as Chris Fen-Mac. I'm a father of two, a healthy schools advocate and a type-2 fun enthusiast. In addition to being a father and working in the education system, I own and operate Rocky Mountain Adventure Racing and most recently made the leap into expedition-length adventure racing.

How did you hear about packrafting, and what has your experience been like?
I'd see folks who had hiked into remote lakes enjoying time fishing from or paddling in a packraft, and the idea of accessing remote waterways was fascinating. Additionally, the idea of a durable, packable watercraft that my daughters and I could use when camping or exploring the backcountry continued to pique my interest. Essentially, I've known about packrafting for some time but, being completely honest, it wasn't until leading up to and training to compete in my first expedition-length adventure race (Expedition Canada 2002 Adventure Race in the Okanagan) that I sat in one!
Congratulations on completing the challenging Expedition Canada 2002 Adventure Race in the Okanagan! What was it like to compete in this multi-day team race? 
Thank you! This has been a bucket list item of mine for some time now. Ever since being a teenager and watching (at that time) Discovery Channel Eco-Challenge, I dreamt of being part of a team who would bike, paddle and trek for days on end, racing in remote parts of the world. Being a father and having a full-time job, I happily settled for the remote part of the world, being an easy 7-hour drive to the Okanagan in British Columbia, Canada (at the moment, anything further away may have been very challenging).
This race was amazing, to say the least - truly explaining the spirit of the whole experience is very difficult. I have so many positive memories… and maybe some not-so-great ones of flipping a loaded packraft. Before the race, arriving and spending a few days in the hotel preparing gear, packing food, participating in skill checks and meeting other teams from around the world felt like a summer camp for adults. The race began at 5 am, which was after we saw eleven of our maps for the first time at 2 am, giving us a few hours to plan our route (and that was only half the maps/course). The race itself included trekking, packrafting (on flat and moving water), mountain biking, canoeing, snowshoeing, repelling and ziplining! We finished the full course (some teams were redirected to a shorter version of the course due to cut-offs) at 5 am, five days later! That feeling, crossing the finish line after dreaming about this for decades, was nothing short of amazing!
What influenced your choice towards an MRS packraft as your vessel for the paddling section of the race? 
When pack rafts were part of the mandatory gear requirements for this recent race, I began the hunt to find the best product to give our team any competitive advantage we could going into this race. In adventure racing, teams don't typically know the route that each discipline will take them over – this race was no different. Because we didn't know the race course, the length of time we'd spend in the packrafts, the temperature etc., I wanted to find a packraft that had a few key features: 
A closed, removable deck that would provide warmth and protection from water and wind;

A tandem packraft, because it would allow us to keep moving in the event a teammate was tired or injured;

By using a tandem, we'd also be able to keep each other company on long paddles (one of our paddling sections was over 80km long!); and

A pack raft that would have an internal storage system (ISS as it's more known in the industry of packrafting) so we could pack our gear and keep it waterproof.
What packrafts did you use, and what insights did you gain about them? 
It didn't take long to come across the MRS Barracuda R2 Pro packraft once I knew what I was looking for. The MRS Barracuda R2 Pro has since become the packraft of choice for adventure racing across the world – not because of our performance or promotion of the raft, but just because it performs well and meets those features that I had mentioned were important to us (and intuitively, other teams too).
After spending a week racing with the MRS Barracuda R2 Pro, our team would make some small modifications to the packraft, and it sounds like MRS is looking into a few of these – slightly easier skeg security, the ability to kneel or sit in the packraft and the ability to attach the 'bag inflator' to the one-way valve rather than just the two-way option. It's important to note that these are evolutions of the raft that may make it easier to race in but wouldn't hold me back from using the MRS Barracuda R2 Pro again (and obviously not, because I also own one!).
Interest to note, we arrived to find a handful of other teams (including ranking international teams) that had the MRS Barracuda R2 Pro as their packraft of choice!
We heard you say that you learned a lot about flipping a loaded raft! That sounds like a crazy story! 
It was crazy to say the least! Part of the pre-race experience is to do a variety of skill checks like I had mentioned – rappelling, swimming and righting a packraft were some of these checks. Well, attempting to easily right an unloaded packraft in a heated hotel swimming pool IS NOT the same as when it is loaded with gear in the ISS, floating down a VERY flooded, glacier-fed, very fast-moving river at 5:30 am in the morning! Essentially when we were in the pool, we just pushed the flipped packraft to right it and hop back in – a matter of less than a minute to get both of us from floating in the deep end of the pool to sitting in the packraft. Well, let me tell you….a loaded packraft CANNOT be simply pushed easily from under the water to right it! We know this because we flipped while accidentally going through a 'hole' broadside in the river (remember, the VERY flooded, glacier-fed, very fast-moving river at 5:30 am in the morning). All jokes aside, this was a terrifying experience for me – one that actually took a long time to talk about. Saving you the scary parts of this story, we eventually figured that we needed to get on top of the flipped packraft, feet in the water on the downriver side of the raft and pull the raft towards us, using the flow of the river to help right the raft. Once the packraft was sitting in the river the proper way, getting back in the raft was easy, all things considered! Lesson learned – load up the raft, flip it in (ideally cold, moving) water and work with your teammate (or solo) to right the raft. 
We love Rocky Mountain Adventure Racing, your company in the Calgary area. What would you like our readers to know about it?
We love you too, and are VERY appreciative of the partnership between Camping Hiking Adventures, MRS and Rocky Mountain Adventure Racing! Our success as a company and a pro team is a result of your continued support and encouragement! 
Rocky Mountain Adventure Racing is a collective of adventure, multi-sport and lifestyle athletes. We organize entry-level adventure races for those wanting to get into the sport. Most adventure racers spend their lives doing shorter races and don't necessarily race in multi-day races (and that's totally okay!) – we design those races and educational experiences to build a community of adventure racers. We'd love to have you come out and race with us. Check out our website at www.RockyMountainAR.com.
Any final thoughts? 
If you've been thinking of getting into the culture of packrafting, now is the time! You won't be disappointed! Reach out to Elizabeth and her team and talk about the right packraft for your needs. Not only are they a supportive, forward-thinking company, but they are also a lovely family of genuinely great people!
---