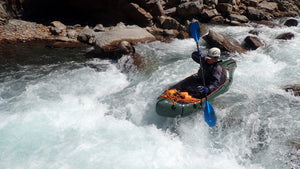 PackRafting
Accessories
Packrafting
Accessories
Inflatable Packraft for Sale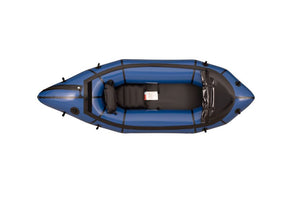 MRS Microraft
Best All-Round Packraft: 
If you can't decide wether you want a packraft for still water or rapids, why not get a Microraft? Not only are they super versatile but they come in a variety of sizes from XS, S, M, L and Extra Long. You will definitely find one that fits you like a glove!  They all come with a spray skirt (deck) that is easy to use (although it is not fully sealed). The Microraft Extra Long could also easily fit your dog, bicycle or child in the front if you remove the deck. 
Testimonials
Camping Hiking Adventures is one of our original Partners! They trusted in us and supported us from our first coffee with them. They have done so much for the Rocky Mountain Adventure Racing community and have sponsored our team to compete in Expedition Canada. Simply put, they are good people. If you're thinking of getting into pack rafting, these are your people! 

Chris
The service was exceptional, the product exactly what I needed, and the pricing was totally fair

Peter
What a great service this company offers: I needed a very specific accessory that was quite difficult to find, particularly in Canada.  These folks went out of their way to help, first with detailed information and then with great assistance in delivering to a remote area. Fast, friendly, and informative - I look forward to ordering again.

P. Lemieux
We want to thank you for the excellent customer service. We just came back from a 2 weeks off the grid adventure with our packraft and we really love it.

Sylvain B
I'm still loving my Alligator 2S Pro!

-Karen J
I would like to say a big thank you for your great service and open dialogue. Your service and communication has been outstanding. 

David Z
Thanks so much for your very insightful and informative response.

Steve N
Thank you! Your service is excellent.

-Michael M
Looking For High-Quality Supplies For Your Next Packcrafting Adventure? You Are In The Right Place!
Welcome to Camping Hiking Adventures!
We are a family-owned business and love spending time outdoors and exploring new places. Camping, hiking, and, more recently, packrafting have been our passions for years! We've had the privilege of venturing to unique destinations worldwide, from Australia to South America, South East Asia, Canada, and the US.
As a family, we are all about carefully selecting products that we've either personally used or wished we had throughout our adventures. Hence, at Camping Hiking Adventures, we are committed to finding the best quality gear at the best prices, and our goal is to become Canada's number one store for packrafting adventures. If you're looking for packrafts, please contact us by email or phone or explore our products.
Choosing Our Packraft Products
We want to provide you with an exceptional experience by offering high-quality, lightweight products you might not find in regular stores. We are particularly excited to bring you innovative products such as packrafts from MRS, a leading brand in the industry today.
Are you looking for packrafts in Calgary? We've got an excellent selection of inflatable packrafts for you to choose from:
Lightweight Packrafts : We know the significance of portability without sacrificing durability. We have lightweight and ultra-lightweight packrafts, perfect for backpacking and multi-day trips. They're designed to be your trusted companion on all your wilderness escapades for many years.
Lake & Steam Packrafts : If peaceful lakes and gentle streams are your thing, there are many MRS Packrafts to choose from. They will let you effortlessly explore calm waters and fully engage in the beauty of nature.
Whitewater Packrafts : For the adrenaline junkies and thrill-seekers, we offer whitewater packrafts built to handle the wildest rivers and rapids. Their superior maneuverability and durability will take your whitewater adventures to the next level.
Solo Or Tandem Packrafts : Whether you love the solitude of solo exploration or prefer sharing the experience with a partner, we have packrafts for both. Choose between our solo and tandem options, and venture on incredible journeys, paddling individually or with your loved ones.
Spray Deck Types : MRS offers three different types of spray decks to help you stay dry and comfortable in your packraft. These specially designed packrafts shield you from splashes, and cold water, ensuring a pleasant paddling experience even in choppy conditions.
Self-Bailing Packrafts : If you're expecting rough waters or need a packraft that can adapt to changing conditions, our self-bailing packrafts are just what you need. With innovative designs, they reduce water resistance and efficiently drain water, making it easy to paddle and keeping you comfortable throughout your adventures.
Custom Color Packrafts : We know personalization matters, so we offer custom colour packrafts. Pick from various vibrant colours and make a statement while on the water.
Used & Demo Packrafts : Looking for a fantastic deal? Check out our selection of used and demo packrafts. These offer great value without compromising on quality. Rest assured, each packraft has been carefully inspected and is ready to accompany you on new adventures.
Not only do we offer high-quality products, but we also take pride in providing fast, friendly, and honest customer service.
Explore our store and discover the high-quality packrafting gear that will open up many new horizons for your outdoor adventures. Contact us if you have specific requirements or are looking for packrafts in Alberta, Canada, or North America. All our packrafts come with free shipping to Canadian addresses.