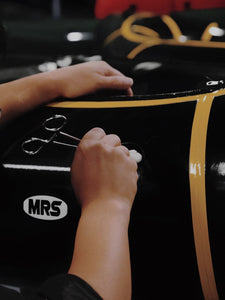 Interview with MRS Founder and Owner
What makes MRS packrafts such high-quality, innovative and reliable boats? Listen in to find out how an outdoor enthusiast combined his creative genius with his commitment to quality and went from a living room production to a global leader in watersports in under 15 years. 
Can you tell us the story behind how MRS started as a company? 
I am an outdoor sports enthusiast myself and often go cycling, ice climbing, and hiking after work. 
When I would paddle canoes, I always had ideas about how to modify them. I decided to make my own boat so that I could implement my ideas, and that's when I started making boats myself.
Designing and building boats started out as a hobby after work, and my workshop was in our living room.
Many of our friends loved the boat we created, and they wanted to use it.  
My friends started to ask me to design and manufacture inflatable canoes, rafts, packrafts, etc., and that's how MRS came into being.
2. What have your most popular products been? 
The Nomad and Barracuda are our most popular products.
This series is our preferred design style and our exclusive patented model.
They are also the fastest packrafts in still water among all the MRS series.
They have a central seat position and a symmetrical bow and stern. 
The hull has a streamlined profile and a relatively long waterline. 
The narrower hull reduces water resistance, so you can paddle more efficiently and effortlessly.
3. Have you noticed the packraft market changing in the past two or three years? 
Yes, we are also packrafters ourselves. We have contacts with various partners and have seen changes in the market and the global economy. However, we exist to serve our customers, so no matter how much the world changes, we will adapt accordingly.
4. Several people we have interviewed recently said they chose MRS packrafts because they are faster and perform better than other packrafts in their experience. What do you think makes MRS packrafts so effective? 
I think there are several reasons:  
1. First, we are watersport enthusiasts and packrafters ourselves.
This point is crucial. I have been on the river every week for 22 years, where I find much inspiration from different friends. Every change I make to a product has a reason and a story behind it. 
2. Continuous attention to design
The MRS design team has been continuously updating products. Every year, MRS optimizes the design for the entire product line and produces dozens of test boats to verify the design idea and measure product performance.
3. High-quality standard of material
This is the main point. The fabric used by MRS is custom-made. It is manufactured according to MRS specifications: particle grade, cloth base, adhesive, process, etc. This fabric cannot be produced in small quantities because of these high standards. The production happens in large batches and long cycles.
Once production is complete, the MRS laboratory tests the fabric. We have 18 different parameters that we test for, including surface peel strength, tear strength, coating uniformity, etc. We do not use any material that does not pass our rigorous testing process. Although our quality control process is strict, there may still be a defect in the fabric, so the production department makes random fabric inspections throughout the manufacturing process. If they find any unqualified fabric sample, they conduct a traceability investigation to ensure that the materials used in each MRS product meet the high MRS standards.
4. High standards in the production process 
MRS produces packrafts in our factory, where we personally manage the quality and oversee new product development together with the product development team.
We also have a quality inspection and evaluation team, as there is a lot of manual work involved in the production process. They look for hull symmetry, check for production defects, and repair any minor flaws. The boats are scrapped if the quality is not guaranteed or there are significant defects.
5. Independent factory, responsible for the brand
We have our own factory; we do not design and manufacture products for any other brand or authorize other factories to manufacture our packrafts. We manage all our production processes according to MRS's high standards.
Our packrafts are handmade and are only sold if they meet our standards. These strict management standards result in our products performing so well. As packrafters ourselves, we are proud of this process. 
We also love cooperation. We have been communicating and cooperating with packrafters from all over the world about product practicability and design. Their feedback and suggestions have provided excellent help and have helped upgrade the MRS packrafts.
5. Can you tell us about the environmentally friendly material you use?
Yes, our fabrics have certifications such as Bluesign.
In addition, we actively support a lot of environmentally friendly work:
In 2017, MRS donated to protect the green peacock breeding base.
In 2020, MRS donated to an NGO to protect the Northern China Leopard.
In 2021, MRS provided material donations for biodiversity scientific research activities.
In 2022, MRS directly participated in scientific expeditions to research snow leopards and provided technical support and material donations.
6. What milestones and achievements are you proud of as a company?
Our packrafts are what we are most proud of. We have been continuously producing boats for the past 15 years since we started in our living room factory. We are still a small factory and are hesitant to even call it an achievement. We will continue to work hard to create value for our packrafters. Let's see what will happen in the next 20 or 30 years!
7. Any final words for our readers?
We look forward to seeing the plans and travel stories of MRS pack rafters in Canada.
We'd also love to share our stories. Would everyone like it if we told them in manga style?
 That sounds interesting! We look forward to seeing those stories. Thank you so much for sharing with us today. 
---