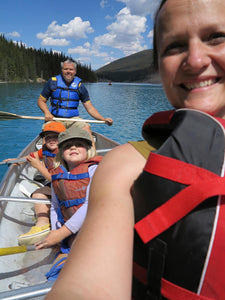 Interview with Camping Hiking Adventures Owner
We are delighted to introduce Elizabeth Lumkes, owner of Camping Hiking Adventures, to you today!

Thank you for joining us today, Elizabeth. Please tell us a bit about yourself and your interest in the outdoors.

As a child, I wasn't the outdoor type. I enjoyed reading and shopping a lot more than sleeping in a tent. But then I met a charming, blue-eyed Australian whose passion was hiking mountains, and I suddenly discovered that I, too, loved the outdoors! We have many happy memories over the past two decades as a family hiking, camping and paddling in Canada, Australia and South East Asia. 

What is the story behind Camping Hiking Adventures? Were you always in business?

No, my background is in education and teaching but during all the lockdowns, I had a lot of spare time. I started a covid hobby of learning how to set up an online store. I initially thought I would focus more on camping and hiking gear, but the main seller quickly became MRS packrafts.

How did you find MRS packrafts, and what do you like about them?

I think they found me! My good friend Byron introduced me to MRS packrafts at the Sheep River in southern Alberta. I thought they looked gorgeous but was convinced they would pop on the rocks. When they didn't (even though his kids were dragging them across a very rocky beach), I was intrigued. I reached out to MRS, and they were looking for a distributor in Canada, which I was more than happy to become.
There are so many things I love about MRS packrafts! They look like eye candy to me; they are so well made, and they are so much FUN! Owing our own packrafts has opened up so many more opportunities and experiences for our family to be together and enjoy the outdoors. I really appreciate the flexibility packrafts offer. It's been great to hike up a mountain with a packraft in a backpack and then be able to paddle around our gorgeous Rocky Mountain lakes, no matter how remote they are.
What are some surprising things you have enjoyed about owning Camping Hiking Adventures?

One of the benefits of opening an online store that I was not expecting is the people we have met and the relationships we have developed. I have so much admiration for the adventure athletes that we sponsor and their dedication to each other and to challenging their physical limits. I have enjoyed meeting elderly couples who are entering the packrafting world because their traditional kayaks are too heavy and bulky to manage anymore. I had so much fun being an exhibitor in several markets and outdoor shows and seeing people's eyes sparkle when they are first introduced to packrafts. And I really love connecting with Canadians from coast to coast, knowing that I have a quality product that serves them in exploring our beautiful country. It's also been a fun benefit that my family can participate and help out in so much of the business. 

I've also been surprised by how much I have enjoyed working with the company of MRS (Micro Raft Systems) and getting to know their various staff members. I appreciate their quality, integrity and commitment to customer service. They genuinely listen to customers' feedback and incorporate suggestions into their products.

What is on the horizon that you are looking forward to?

We are launching the MRS Ultra Light Collection! I believe the Nitrogen is the lightest packraft on the market at 880 lbs (1.9 lbs). Some new colours in this collection (white and olive green) are already making a great impression.
I am also excited about creating an online presence where Canadian MRS users can post their pictures, videos and stories about packrafting in the true north, strong and free. Check out mrspackrafts.ca on Facebook and Instagram, and please contribute some of your experiences for the wider Canadian community.
Any final words?
Thank you to all our customers who have been so encouraging and supportive! You make me love what I do.
---