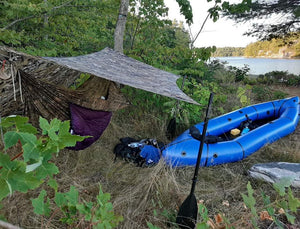 Tips for Lightweight Packrafting Trips
We are excited to welcome Jay, champion of lightweight packrafting. We have learned so much from Jay about how to travel light that we asked if he would be willing to share his secrets with you. 
Hi Jay! Can you tell us a bit about your background and interest in the outdoors? 
My draw for the wilderness started with some of my best childhood memories with my family, when we hiked and went on simple car camping trips in Ontario, Canada. I advanced to easy multiple-day paddling and backpacking trips when I was in my early 20s, discovering that traveling through wilderness for days with basic equipment gave me a sense of adventure and a deeper connection to the wilderness. I soon advanced to multiple-day non-stop adventure races in Ontario, which involved sleepless nights and days in the wilderness while navigating on foot, by mountain bike and by canoe. The mental and physical challenges of adventure racing through the wilderness sharpened my skills and caused me to have a greater respect for nature. Though I stopped adventure racing many years ago, I continue to do backpacking, paddling and packrafting trips.
What are some of your favourite areas to explore? 
I live in Ontario, which is a province that has an abundance of lakes and rivers. I very much appreciate this about Ontario, even when just hiking alongside a river or lake. 
When I am traveling outside of Ontario, I really appreciate mountainous regions.
Little known to many Canadians is that Ontario has an ancient mountain range that is older and was once higher than the famous Rocky Mountains in Western Canada - The La Cloche Mountain Range. It is an area of beautiful quartzite small mountains with amazing views of small clear lakes and of the large Georgian Bay. It is one of my favourite areas to backpack and packraft.
Outside of Canada, I really liked packrafting the Escalante Canyon in Utah for five days. It's amazing to paddle the river that meanders through the canyon, and there are many places to stop and do side canyon hikes.
The Atlas Mountain Range in Morocco is one of my favourites for backpacking, partly due to the surreal landscape but also due to the experience I had with the very hospitable Berber people who lived off the land in the mountains.
You mentioned that you had traded in your heavier inflatable kayak for a packraft. Can you explain what motivated this decision? 
For many years I used canoes and inflatable kayaks for flat water and whitewater trips. When I discovered packrafts, I sold my heavier inflatable kayaks because I found that packrafts are better for a number of reasons. One reason is that their pack-ability and extremely low weight allowed me to combine backpacking and paddling into one continuous backcountry trip. For the first time, I could do continuous wilderness routes, which would not be possible for a backpacking trip or a canoe trip - entirely new wilderness route possibilities opened up.
Even when I am doing a paddling trip with other canoeists, I much prefer my MRS Baracuda R2 tandem over a canoe. It's about as fast when paddled with kayak paddles, but much more comfortable to sit in and easier to do long 1-5 km portages with (I deflate it in minutes and pack it into my backpack). When a long portage comes up, I look forward to stretching my legs, but the canoeists I paddle with often dread them because they have to carry a 40+ lb canoe in addition to their other gear. 
What packraft or packrafts have you used, or do you recommend? 
I used the MRS Alligator 2S and the MRS Barracuda R2 and recommend both. The MRS Alligator 2S is a lot of fun in whitewater, is very light (3.7 kg with skirt), and quite durable for its weight. The MRS Barracuda R2 is a tandem packraft that I found best for flat water and easy rapids (Class II or less). It is just about as fast as a standard kevlar tripping canoe, yet 1/4 the weight (5.2 kg).
You are a fan of traveling lightweight. What tips do you have for our readers who may be starting out? 
If you expect to carry your packraft for long distances during a multiple day packrafting trip, the weight of all your gear is important. Even if you plan on doing backpacking-only trips, packing light makes hiking more comfortable and more enjoyable.  
Packing light means carefully evaluating every piece of gear you take, including listing the weight of each item. 
I included a complete gear list for a two-person packrafting trip with just one tandem packraft. It should help give your readers an idea of what to pack and save them some research and trial time.
Thank you so much for this, Jay! I know this will save people a lot of time in trying to figure out the best way to pack light. 
A note to our readers: If you have found Jay's tips helpful or have questions for him, drop him a note in the comment section below.  
---