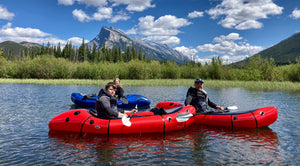 Family Fun Packrafing
We LOVE the outdoors! And we are so thankful to live just a short drive away from some of the most beautiful mountain lakes in the world. Until recently, our main family outdoor activities in the Rocky Mountains have been hiking and camping. But last summer we discovered ... packrafts and a whole new world has opened up for us to explore in the mountains. Our kids are happy to skip out on the drudgery of slogging up a mountain, and we as parents are happy as long as we are enjoying the outdoors together. 
Last Sunday (Father's Day), we had our first family paddle at Vermillion Lakes just outside of Banff.  It was the perfect day to test the boats out - sunny and not too hot. Seeing the variety of birds from the water was awesome and someone just might have had to go into the water to "retrieve my paddle". Not a bad way to cool down and burn off some energy ;-)
We're looking forward to many more packrafting adventures this summer, especially the freedom of taking our packrafts on a hike to a mountain lake and being able to explore the water as well as the trails. Maybe we'll see you there?!
---