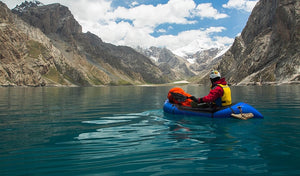 Top 6 MRS Packraft and Inflatable Kayak Options for This Summer
We get it: choosing a packraft can feel confusing. Not only are there so many options, but everyone has their own (strong!) opinions about what you should get or not get! Packrafting is fun, but it is a significant financial investment when you are ready to purchase your own boat. This is why we thought we would bring some clarity to the process and narrow down the options based on your needs. 
Here are the top 6 Micro Rafting System (MRS) packrafting options and what they do best. 
For Still Water:
Are you planning on doing most of your exploring on lakes and calm rivers? Then the Nomad S1 or Nomad S1 D are for you. They have been designed for speed in still water and will be just fine if you do go through a class 2 rapid. The Nomad rafts are the closest to a traditional kayak but still provide the things we love about packrafts: portability and lightweight enough to take along with you anywhere (under 4.5 kg). 
For White Water:
If you know you will be heading for rapids, you will want to purchase an Alligator 2S, Alligator 2S Pro or a Viking Self-Bailer. These vessels are specially designed to  keep you as dry as possible while providing maximum maneuverability. The Alligator 2S Pro has several enhanced features, such as stronger fabric, making it more resistant and easier to control in white water. The Viking Self-Bailer is slightly larger than the Alligator and has 11 drainage holes and an adjustable inflatable floor but no spray deck.  All three of these packrafts come with thigh straps (which make it much easier to maneuver), backrest, footrest and removable skeg. 
For 2 Person Paddling:
If you want to paddle tandem, take your dog along, or simply pile in some extra luggage or your bike, then you will want to consider the Adventure X2 or Barracuda R2. The Adventure X2 can accommodate up to 188 kg (414.5 lbs) and at 4.4 kg (9.7 lbs) it is still light enough to carry along in your backpack; while the Barracuda R2 can handle up to 230 kg (507 lbs) and only weighs 5.1 kg (11.2 lbs). The Barracuda looks like and handles like a canoe. It is longer and narrower than the Adventure X2, making it more streamlined (while being only 20% heavier). 
The Most Affordable Options:
If you want the fun of packrafting without breaking the bank, consider the Ponto or Tulo designs. Starting at US $699.99, these are a great option, with the added advantage of being the lightest MRS packrafts at 2.9 kg (6.4 lbs) and 2.27 kg (5 lbs), respectively. Super easy to bring along on a hike!
Best All-Round: 
If you can't decide wether you want a packraft for still water or rapids, why not get a Microraft? Not only are they super versatile but they come in a variety of sizes from XS, S, M, L and Extra Long. You will definitely find one that fits you like a glove!  They all come with a spray skirt (deck) that is easy to use (although it is not fully sealed). The Microraft Extra Long could also easily fit your dog, bicycle or child in the front if you remove the deck. 
All the Bells and Whistles: 
If you want the king of packrafts, then we recommend the Barracuda R2 Pro. It has everything we love about all the other packrafts rolled into one. It fits 2 people; is great in whitewater and great for speed. It weighs under 6 kg (13 lbs); and is made of reinforced fabric. And like many of the other packrafts, it comes with ISS (internal storage system) - a zipper in the hull where you can store your gear, thus keeping it safe and dry while also improving boat handling. 
As you can see, there are a variety of options for you to choose from. Packrafting has come a long way from its early days of PVC and bulky vinyl boats. Not only are the designs beautiful and versatile, but the material is impressive. All the MRS boats are hand-made from high-quality urethane-coated nylon. This material is light, abrasion-resistant, UV tolerant, non-ageing and flexible even at low temperatures.  It has been specially treated to make a smooth, scratch-resistant surface. This creates a supple material for easy packing and folding. It is also very easy to repair in the unlikely event that the packraft should need a patch. 
We hope this is helpful as you navigate the options out there. Have fun and see you on the water! 
---