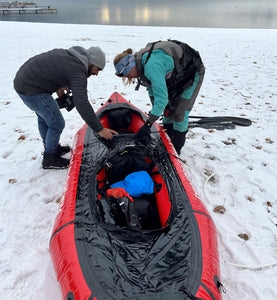 Find Your Packraft: 5 Options for 5 Kinds of People
People often ask us which packraft to choose. If you love:

Fishing - you may be interested in a Ponto. They are super lightweight (2.9 kg or 6.3 lbs) and one of our smallest packrafts, so they are easy to take to your secret fishing hole but big enough for your gear and all your fish - even the big ones. You can also attach a fishing pole holder accessory or two!

Hiking or Cycling - You will love the Microraft as it is also very lightweight (around 3.5 kg or 7.7 lbs), and it rolls up very compactly and fits easily into a 35-litre backpack. It comes with a spray deck so that you will stay warm and dry even if it rains or you are paddling in cold water. This is also a favourite with cyclists as it has enough room to strap their bikes on, and it can handle up to 136 kg (300 lbs) on a Large Microraft.
Whitewater - The Alligator line with the Pro option or the Viking self-bailer are definitely for you! Specially designed for all class rapids, they include thigh straps and are fast, responsive and FUN! The Alligators are fully watertight, while the Viking self-bailer's floor allows the water to run straight out. The ISS feature will keep all your gear dry and safe if you spill. 

Family - You can feel confident taking your children, partner or dog out with you in a Barracuda R2. They are priced affordably but offer the same comfort and speed as the Pro model. Seniors love how light and easy these are to handle and store compared to heavy, bulky canoes or kayaks. If you are looking for an even more budget friendly option that is even lighter, you will be interested in the Adventure X2. Years of happy memories - guaranteed.

Adventure Racing - It is no secret that the Barracuda R2 Pro is dominating the adventure racing world. Racers love that it tracks well in the water and significantly decreases their race times. At under 6 kilos (31.1 lbs) they are light enough to carry for long distances but also sturdy enough to handle rapids. If you are an adventure racer, this tiny, lightweight pump can fill your Barracuda R2 Pro in around a minute, saving you precious time! 
All MRS packrafts come with a repair patch and three year warranty. 

Join the MRS packraft movement and find out what all the fun is about!


---